Tokyo Marui VSR-10 Pro vs G-Spec
Comparison test: Tokyo Marui VSR-10 Pro vs G-Spec (two best airsoft snipers in the world) - the accuracy, sound, outer look and more.
Place for your ad?
Tokyo Marui VSR-10 spring sniper rifle specifications:
Pro

G-Spec

Gun Length

1075 mm

950 / 1135 mm

Weight

2 kg

2.1 kg

Inner Barrel Length

430 mm

303 mm

Iron sights

Yes

No

Scope mount base

No (optional)

Yes

Silencer

No

Yes

Tactical sling

No

No

Price (in EU)

181 € (=213 $)

230 € (=271 $)

Muzzle velocity

295 FPS (=90m/s)

295 FPS (=90m/s)

Recommended BB

0.25, 0.30 g

Accuracy:

Results at www.airsoftaccuracy.com/search.php...
Mount base price: 18 € (=21 $) (at 2017-08-23)
Inner parts
Inner parts are very similar (spring, piston, cylinder, trigger..). The only big differency is in inner barrel length. Pro version has 430 mm inner barrel, G-Spec has 303 mm.
Sound
Measuring in decibels, there is no big differency between Pro, G-Spec (with silencer) and G-Spec (without silencer). But my opinion is that G-Spec with silencer has better (deeper) sound. You can listen the sound in Youtube version of this test.
Accuracy
After quick accuracy test (15 meter distance indoor shooting, 0.3g BB), 9 shoots out of 10 was in 1" grouping for both guns.
After full test (at 10, 20 and 30m distance), pro version had slightly better accuracy, probably due the longer inner barrel. Full test results you can see here: http://airsoftaccuracy.com/search.php?user=igor&gunname=VSR-10&brand=tokyo-marui
Images
Tokyo Marui G-Spec: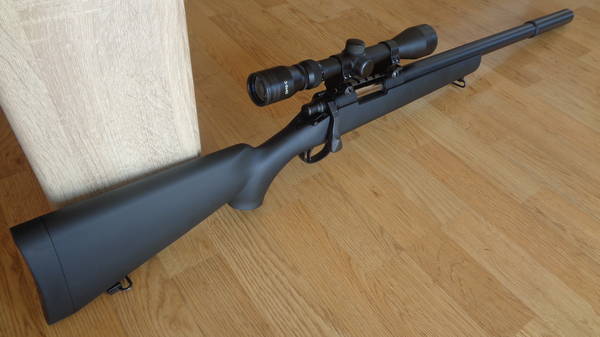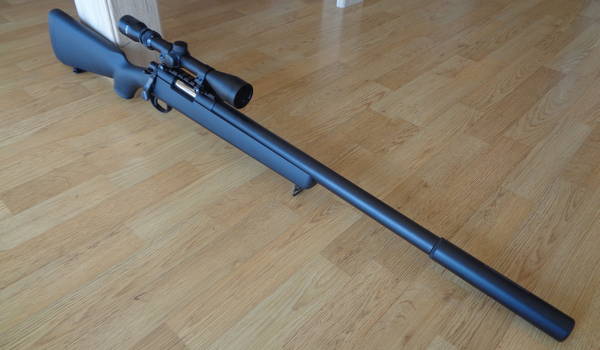 Tokyo Marui VSR-10 Pro: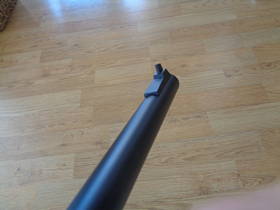 TM VSR-10 G-Spec and Pro versions: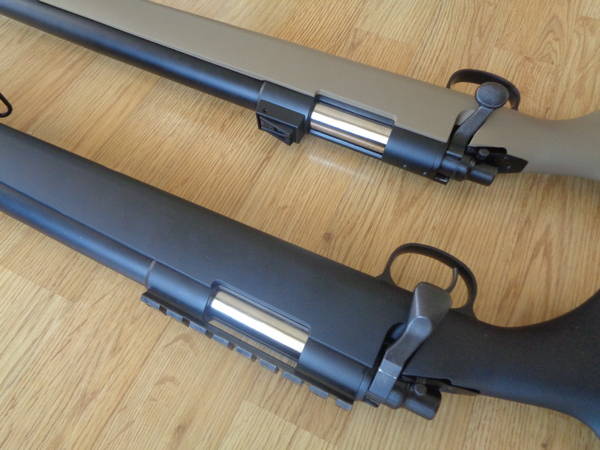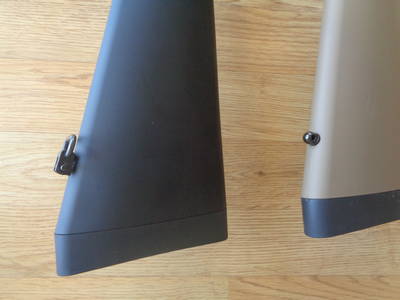 Conclusions
Both airsoft snipers has very similar specifications, accuracy.. Which one to choose? My opinion is that id depend, what aiming type you prefer. If you would like to use only Scope, then buy G-Spec, it has better look and sound, thanks to silencer. If you like iron sights, buy Pro version. In future you can buy mount base if you would like to place scope on it.
Place for your ad?
HELP US
If you have any airsoft gun, please, do our airsoft accuracy test and upload it to our site. Thank you for your help and cooperation.